WASHINGTON (CNN) — Former congressman and Republican vice presidential candidate Jack Kemp died Saturday at age 73 after a battle with cancer, his family announced.
Jack Kemp, a former congressman from New York, was the GOP's vice presidential candidate in 1996.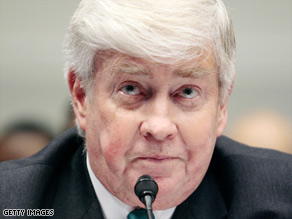 "The only way to oppose a bad idea is to replace it with a good idea, and I like to think that I have spent my life trying to promote good ideas," he told CNN in a 1996 interview.
Kemp "passed peacefully into the presence of the Lord" Sunday evening, a family statement said. He disclosed his illness in January.
**********************
i found jack kemp's passing and the fact that it was mostly ignored, sobering.

he could have been vice president or even president. then the story would have been reported differently.

but i remember the republican party distancing themselves from this honorable man because of his voice on behalf of minorities, the poor and the forgotten. i read an article over a decade ago praising jack kemp's character for helping african americans in low income areas despite the fact they made up a small portion of his constituency just because he believed that it was the right thing to do! he was a prophet begging the republicans to reach out to them and other minorities.  he was ignored.
i know others will remember him for his economics but i will remember him for his heart and putting his own political future at stake for others.

only when it was clear that bob dole would get his donkey rocked did the republicans reach out to him to join the ticket. even though dole and kemp did not like each other….Kemp once said, "In a recent fire, Bob Dole's library burned down. Both books were lost. And he hadn't even finished coloring one of them."
here's what others said about him:

from npr:
The other mainstay of Kemp's philosophy was that the GOP needed to be more inclusive. From the outset of his career in electoral politics, which began with a successful bid for an open congressional seat in western New York (Buffalo) in 1970, he pushed for Republicans to do what they could to bring more African-Americans into the party.
After his election, President Bush named Kemp to his Cabinet, as secretary of housing and urban development, where he earned a mixed review. He got credit for innovative ideas and was best known for championing the inner-city poor. And he helped end the stench of corruption and cronyism that had engulfed the department under his predecessor, Samuel Pierce. But in terms of real results, not much changed in his tenure.
from fred barnes/weekly standard:
There was a reason for his enduring appeal: Kemp was a good-hearted man who put his philosophy and his cause above personal ambition. His overriding concern was for others and for America.
At the heart of this exchange, and everything Jack did, was his unshakeable belief in the inherent worth and dignity of every human being. This is what inspired his passion for job creation and economic growth; his support for freedom fighters in every corner of the globe; his insistence on a strong defense as a deterrent to war; his work on behalf of the poor, the immigrant, the unborn, and the dispossessed. I traveled with him from the union halls in his district outside Buffalo, New York, to the small towns of Iowa and New Hampshire; from the most blighted and desperate slums in the United States to Prince Charles' private garden at his home, Highgrove. In every circumstance, his message was the same–each and every human being is a precious resource, to be nurtured and defended and given the freedom he needs to fulfill his destiny as, in Kemp's words, "a master carpenter or a prima ballerina–or even a pro quarterback."
one of his interns at empower america described him as such:
Kemp was one of those rare individuals who is genuinely at ease with people from all walks of life. Most politicians can affect an air of friendliness when necessary. But Kemp seemed to genuinely enjoy talking about a wide range of matters with all sorts of people. He was equally at home with policy wonks, athletes, and just ordinary voters.
from the dallas news:
There was another side to Jack Kemp, though. He tirelessly advocated expanding Republican outreach to the poor and to minorities, believing that a just government must care about extending the blessings of free-market prosperity to all. Dallas Mavericks president and CEO Terdema Ussery, a close friend, tells us that Mr. Kemp learned a lot about race in America from his years as a Buffalo Bills quarterback and felt a moral obligation to speak out on issues that hurt him among some Republicans.
"He talked a lot about taxes," Mr. Ussery says, "but the other things he talked about, they didn't want to hear so much."
Yes, Jack Kemp was the future once. For a Republican Party badly in need of fresh ideas, credible optimism and a heart for those at the social and economic margins, he could be again.
*********
in a sense, i find jack kemp's trajectory appealing. quietly serving and advocating for the marginalized. and then quietly forgotten. getting to keep my soul in full in the process.
Posted under
politics