i blog primarily to document my life. our lives in and around the agapeshack.
we've been painting the wrong picture for you…..we don't eat out all the time…we actually cook a lot. especially after theresa finished classes at the french culinary institute. so as we transition into our baby days and eating out less….here are some of the everyday things we eat…because we cook them on a regular basis.
raising up zoe pax has been a family affair. theresa and i are busy enough feeding, changing, burping, holding z that we have little time to think of food let alone planning to have good grub for ourselves. luckily we roll with a large entourage. here theresa's mom and grandma are bbq'ing some pork belly aka meaty bacon. they have also cooked some clear noodles with beef with the usual roster of small korean appetizers.
my mom is also here putting the touches on 2 chinese chickens along with soup.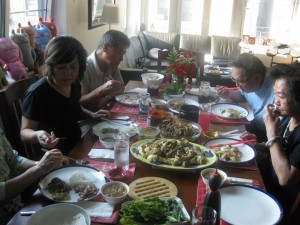 we are not just eating…we are feasting on a regular basis because our family is around and involved. plenty of leftovers deep into the week.
enough even for visitors! ricky and annie brought drinks to add to our banquet. they were thinking of bring over shake shack but i discouraged them because of the bounty we have….and encouraged them to come over as quickly as they could because the food was getting cold!
then again….it might be only a village of women at work. the men got to play with and stare at zoe while the ladies worked. they did help eat.
no restaurants for awhile during theresa's healing….but we're not missing much.
Posted under
some favorite home things