occasionally we travel outside of manhattan so i thought that i would share a few places that we like to eat at when we are not in nyc. again, not necessarily the best or whatever superlative…just places we go to regularly when we are in your town.
we love ourselves some chick fila. and of course what we love more is free chick fila! so we dressed our daughter up in a godmother made cow costume(make sure to vote for her zoe at http://www.showusthecow.com/photos.php?view=detail&id=557)and headed to nj for some nuggets, waffle fries, chicken salads, chicken salad sandwiches, half lemonade/half ice teas and good ol' standard of the simple chicken sandwich. the draws are real chicken meat that is always quality and a hint of southern fried goodness.
there is a chick fila in nyc on the nyu campus but they are closed during the summer.
strangely, our pics have no recording of the actual food. i swear we ate all that…perhaps too soon. but i admit that this was an elaborate device to post more zoe cow pics.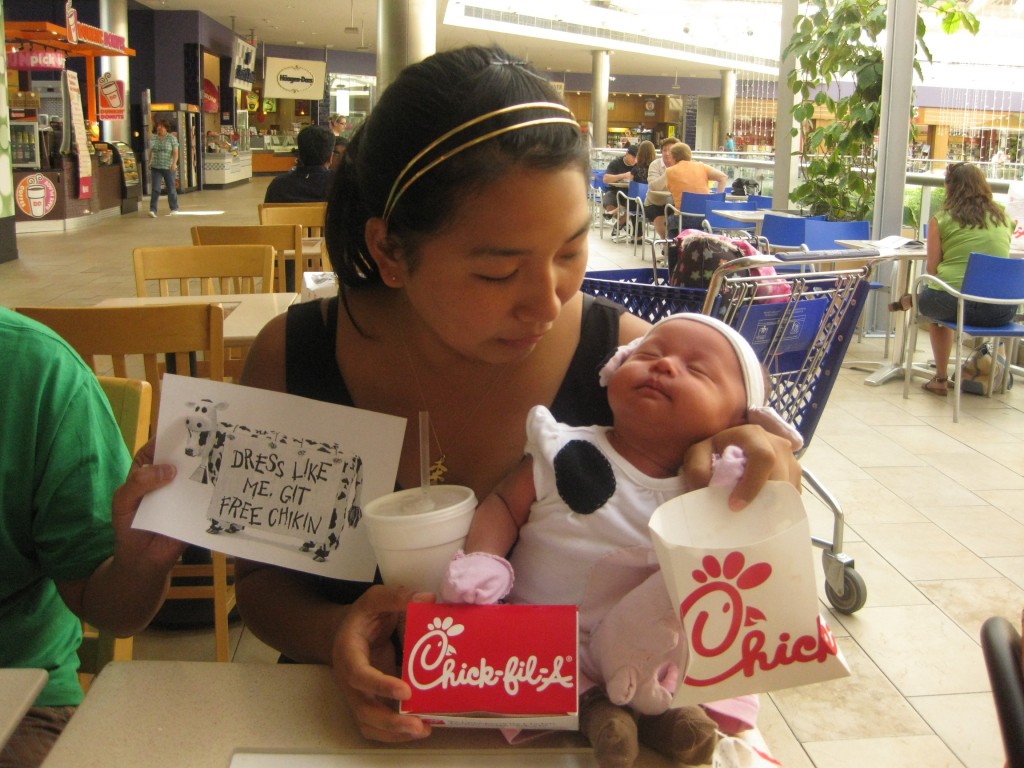 here's godmother alpha with the evidence of zoe's prize: the 12 piece nugget meal with fries and drink. a lot of food for a little girl! she wound up not eating any! and we had to finish it off for her….its a hard knock life.
and a closeup of the same…..
finally evidence that she was not asleep the whole time! she does sleep well during trips and likes movement especially in cars. i wonder if she'll have any suppressed memories of this?
Posted under
baby
,
some favorite non-nyc things