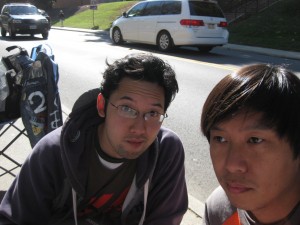 when we got into the pit, a sweet-sweet young woman turned to me and said with enthusiasm that she hoped that this show would be one of my favorites. she was excited for the night.  she had come with her husband and other family members, mostly alums of the university for an opportunity to watch u2 rock her campus.
this did turn out to be one of my favorite tour stops. first, set in a college town…it had a totally different vibe and energy. the kind of life that comes with youth.  then people were not as uptight about lining up so after a nice leisurely lunch, we hopped into line…a very short line. good spots were guaranteed.
another cool thing about the venue is that you could actually see the stage from outside! so students camped out on a hill just outside the stadium and got a free show. brilliant move by u2 in their attempt to reach new fans. just over theresa's right shoulder is the screen stretched out….
we got railing….a different kind of railing! back railing
we discovered that sightlines were actually better in the back of the pit and we also are able to see the band when they come out on the outer stage. in fact, we have toyed with the idea of doing front of the outer pit…but i think enough people have discovered that already and those spots are the first to go…maybe ahead of the front of the inner pit.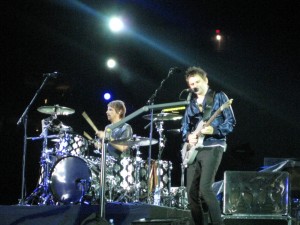 here are our clear views of muse who put on another impressive set. we will try to get into this band post tour.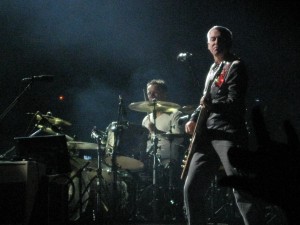 …and some shots of the main attraction bringing a lot of energy to make their case for yet another generation of college students…some who are more likely into hip hop, american idol or perhaps, even muse. they do a pretty fierce setlist that alternates new songs with old favorites similar to the tight show the second night at the meadowlands. and a brave, brave choice…..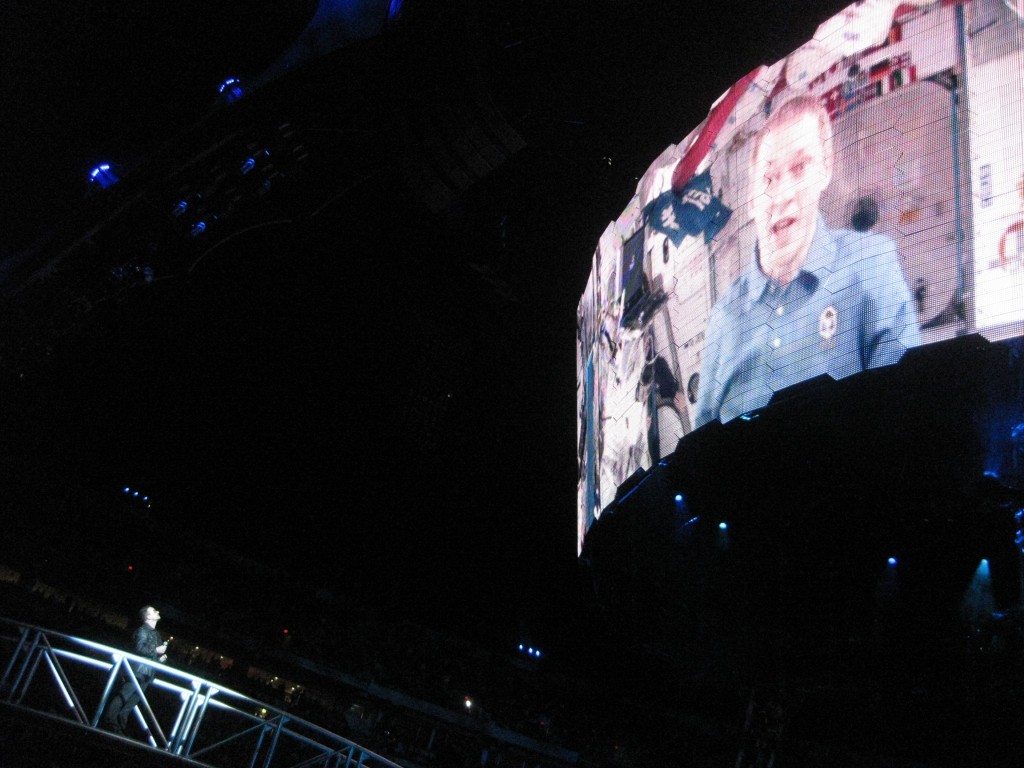 …your blue room…an obscure song that u2 has been courageously singing on the american tour to lukewarm responses. the blue room may even refer to the port a potties around the field level that people seem to rush for when this song is played.
it is entirely literary, metaphoric and mostly inaccesasible. but u2 busts it out for the college crowd. a shock for me…but i'm glad for my boy q who is in the audience for his one shot at u2360 this time around(we got ga's for philly next year!)
the song contains lyrics sung by a member of the international space station named frank. more like recited by frank.
some random parting pics….always love catching adam playing the bass with one hand. wink. to his credit, adam is the most interactive of the band…but he is often seen….resting.
then there's a shot of the band on the outer stage right near us. great views. better than right up front because back here, the stage is lower, at waist level whereas in the front, its way above my asian head.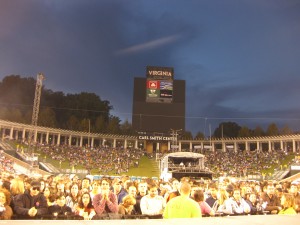 the security at uva was top notch…especially our dude in the foreground who regulated pit flow, actually told people that they could not go deeper into the pit and sent them back to the sides, handed out ear plugs not knowing if he had a pair left for himself, welcomed guests to his town, chatted with people, told stories. wow.  a security person who cared.
the lawn at the back of the venue was cool. literally cheap seats at $30. it added to an overall great vibe.
so yes, tiffany, we would come back.  all you have to do is convince the world's biggest band to encore in charlottesville.
Posted under
u2