the predecessor to the jon stewarts and the stephen colberts of the world…the one who is the missing link between the fake news of snl and the fake news phenomenon of today(see dl hughley with his show on cnn…cnn!)is craig kilborn. the former sportscenter anchor turned faux headlines anchor turned(now)actor and behind the scenes producer used to have a daily moment of zen on his show. the kids would call it a wtf??? its a crazy, unbelievable, can't make this up scene that leaves you speechless…and in wonder. i won't(can't)do this daily but will post whenever i see something….wow?
in today's episode,  the leader of the free world bows down to the real leader of the free world.
President won't interrupt 'Lost' premiere
Posted: 03:37 PM ET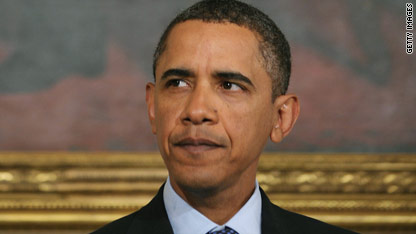 "Lost" watchers, all is right with the world again: President Obama will not interrupt the long-awaited episode by giving a national address the same night.
Fear gripped the hearts of fans when it was announced that the president wanted to push back the annual State of the Union address – typically held in late January – to February 2, which everyone should know by now is the premiere of the ABC drama's final season.
Crazy talk! Doesn't he know people have been dying to find out what happened to the castaways?
But White House press secretary Robert Gibbs assured viewers Friday he "doesn't foresee a scenario in which millions of people that hope to finally get some conclusion in 'Lost' are preempted by the president."
The "Lost" news came in response to a question from ABC correspondent Ann Compton at the afternoon press briefing.
There was some recent angst by fans of the popular ABC series Lost, when
rumors
circulated that the White House was considering scheduling the State of the Union Address on Feb. 2, which happens to be the series' premier. Rabid fans even started a Facebook page, called "Americans Against the State of the Union on the Same Night as LOST" to urge Obama to choose a different night for his address.
President
Obama's
first State of the Union address has been scheduled for Wednesday, January 27. Barack Obama will speak before a joint session of Congress to outline his agenda for the upcoming year and take a look back at his first year in office, after inheriting a destroyed economy, two wars and years of abuse of our Constitution and rule of law by Bush/Cheney.White House press secretary Robert Gibbs told reporters on Monday that his speech would be broadcast on national
television
and also streamed live on the White House Web site.
Posted by: CNN.com writer Breeanna Hare and ChattahBox
Posted under
moment of zen