part of our christmas traditions involves collecting an ornament series that began the year we got married. these ornaments, christmas windows are sold through the hallmark keepsake ornament club and with each passing year, we get another in the series: this is our 5th year of marriage but our 6th christmas together(we got married 07/26/03).
with this being a milestone year, i wanted to celebrate and mark our 5th year with something special.
almost on cue, hallmark releases a special ornament inspired by the christmas windows series called the little window shoppers. perfect as a christmas surprise for theresa.
however, this was ultra limited and was only sold in 20 store locations around the country in the fall….none near me or the nyc area but in places like gresham, oregon and delray, flordia and murray, utah and shelby township, michigan. you get the idea.
so after google mapping a few locations, i determined that my best chances were either in tucson, arizona or alpharetta, georgia where i know some college students. i sent eden chen and carolyn tong to fetch it for me near their atlanta campuses. it is total culture shock for them as they were two young asians in a sea of mostly older white women waiting in line for this prize. but mission accomplished for fake christmas but real anniversary!
much love to eden who refused to take any of my money when he delivered it. thank you for your generosity.
i also got this special ornament to mark our pregnancy. i didn't want to get a baby's first christmas ornament because….there's no baby..yet!(that's next year)….but instead wanted to get something to remember how the magical fall turned into the magical winter and to celebrate our lives together so far. this looked right.
this ornament is also a limited edition one but easier to obtain since it was sold at my local hallmark though to club members only. i was late getting to the store when it was released and managed to get one of the last ones! when i arrived, there was only one left behind the counter and it had already been reserved for someone else. but the manager said i could have that one because he was sure he had another in the back. not wanting to ruin someone else's fake christmas, i asked him if he wanted to double check in the stockroom before selling it to me. he waved me off ultra-confident in his memory. deciding not to be too chinese-y, i didn't offer a second time and took the ornament and ran.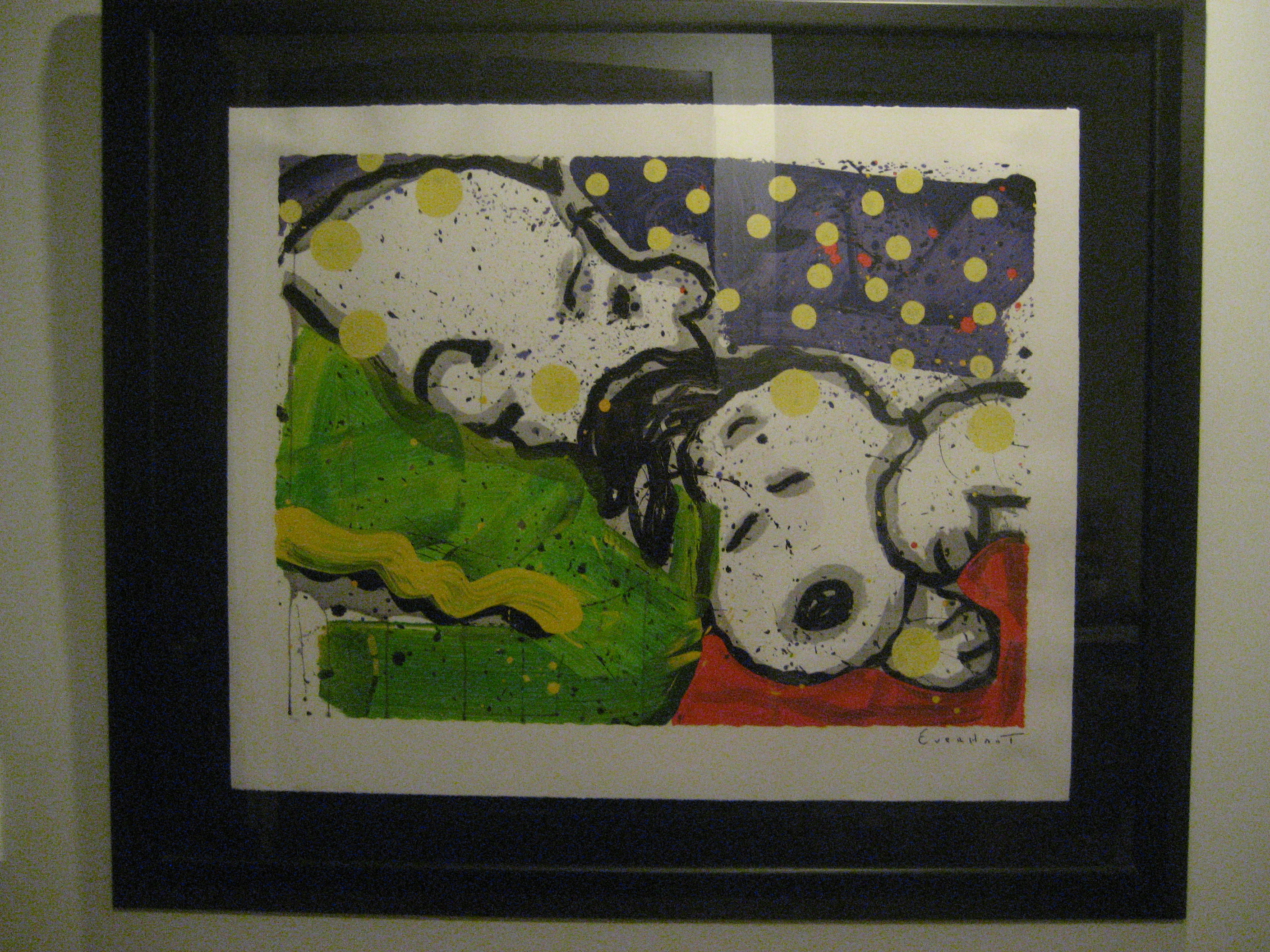 i also liked this ornament because it reminds me of the painting in our bedroom. that's charlie brown incarnating me carrying the world on his shoulders and that's snoopy embodying theresa without a care in the world. i like how the expressions are sublimely shifted on the ornament.
these paintings are big suckers…done by tom everhart, the only artist commissioned to do peanuts artwork. i got these awhile back when we were in maryland for a valentine's day gift.
i purchased the snoopy ornament on august 25…way before we got pregnant or found out that we were pregnant….i was confident that we would be pregnant by christmas 2008….
why did i take this risk in buying the peanuts ornament in advance? did i believe in the power of christmas(fake or real)? did i believe in my baby making skills? did i believe in my own prophetic(pathetic)powers? no, no, and no. i believed in the power of u2 music making.
there was news that u2 was releasing a new album…sometime in november. and there's something weird and magical in my life that happens when they do release studio albums….significant relationships, new changes usually follow…usually involving female folk(we will see in about a month if the tradition holds true).
though, ultimately the album was pushed back until march 3, 2009…it is still before our due date in june. and getting the charlie brown and snoopy christmas hug was the right call.
merry christmas eve!
Posted under christmas ornaments, ornaments