it ain't fall until its labor day…and its ain't labor day without our family excursion.
our annual family trip to a nyc tourist attraction on labor day is a tradition that we just started doing a few years ago and kept doing. we discovered that tourists evacuate the city so the spots empty out and you have these massive places to yourself.
mostly. and maybe not this location.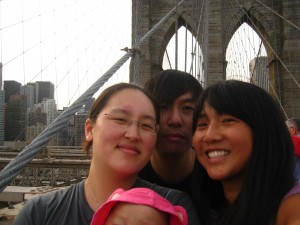 why do we do this each year? to affirm our love for the city? to affirm our love for each other? to affirm our calling to the city? to affirm our calling to each other? because its fun? because its silly and stupid? just because?
the traditions that we inherit, the traditions that we create and that we choose to carry on define us in conscious and subconscious ways. it might be all these reasons…and others that we have not brought to the surface yet.
normally, we go to the tourist site…..top of the rock, empire state building…..closer to dusk and watch the sunset. i think i insist on doing this to symbolically transition from the hot summer to the cool magical fall. we missed doing that last year at the statue of liberty…but we got to do that this time around as we headed into brooklyn.
love of family, love of city and calling affirmed. thanks, tourists, for your loot and booty; especially you european tourists with your valuable cash reserves.  you may leave now. see you again next year, somewhere in the city.
we finish the day with the annual ancestor picture. with our new addition.
see you next year! my first family tourist site was a blast!
Posted under
labor day
,
new york
,
some favorite(NYC)things
,
tsangs